Welcome To
CTL Baptist Church
If any man be in Christ, he is a new creature. Old things have passed away. Behold, ALL things are become new!
Welcome!
Our focus at CTL is for everyone to know, live and carry the Gospel to those who don't know, so they can come to know, live and carry the gospel. It's just that simple. To accomplish this,we believe and teach the Holy Bible without error as the final and ultimate authority for all affairs of human life. God wants to restore and build your life into the plan and purpose He created you for. We worship One God, Uncreated, Eternal, and Holy, the Co-Equal Triune Father, Son and Holy Spirit. We acknowledge the Biblical revelation of Jesus as Yahweh God in the flesh, who is the sinless Son of God, thus making Him True God, that died for the sins of mankind, paying the required price with His precious blood. This perfect, completed sacrifice is all that is needed for God's wrath to be satisfied. By believing in this Person and His completed work as demonstrated by His bodily resurrection from the dead, one can and will be saved. The Person of the Holy Spirit will then take up residence in the new creature and help that one to live the life pleasing to God by making the Godly Biblical decisions that are foreign and hated by this present world. We await the Second coming of Jesus to this world to put down all Satanic, and human authority that opposes His will, and set up His Eternal Kingdom wherein His Righteousness will rule forever.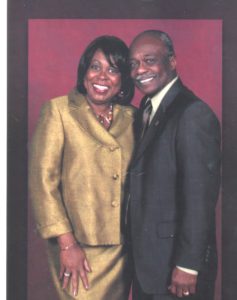 Pastor Brad and First Lady Belinda Traywick

Photo Gallery

Send us a prayer request at prayer.ctl@gmail.com
CTL Baptist Church
Triphan Community Center
1685 W Higgins Rd.
Email: ctlchurchsecretary@yahoo.com
Phone: (847) 429-8320